Standing desks are becoming an increasingly popular option for office workers. That is because they can help with obesity, backache and so on.
One health concern we often ignore is sedentary in front of your desk. By using standing desks, you can switch from sitting to standing whenever you want. Believe me, standing for one or two hours a day can have a drastic effect on our health.
But for people who already have their office setup, it is quite expensive for them and employers to replacing these desks with new standing desks.
And that is the reason why desk converters is invented as it can switch the office to ergonomic side with lower cost.
What can Desk Converters Do to Help?
Products that completely reinvent how you approach your workstation and health need to be considered by everyone working in the office or at home. The desk converter is definitely a worthwhile investment since it can bring so many unique benefits.
Getting an ergonomic desk converter converter can help you stay goodbye to back, wrist, shoulder, spinal, and other pains that come with sitting for too long at the desk while you are working. Staying healthy can help you work long intervals without it taking a toll on your body.
Having the option to switch between standing or sitting positions in just a few seconds can be a blessing. The desk converter is also a great option if you already have a conventional desk for your work from home station or office. Plus, people with different types of heights can also be accommodated.
Let's take a closer look at its features and how effective it really is for you.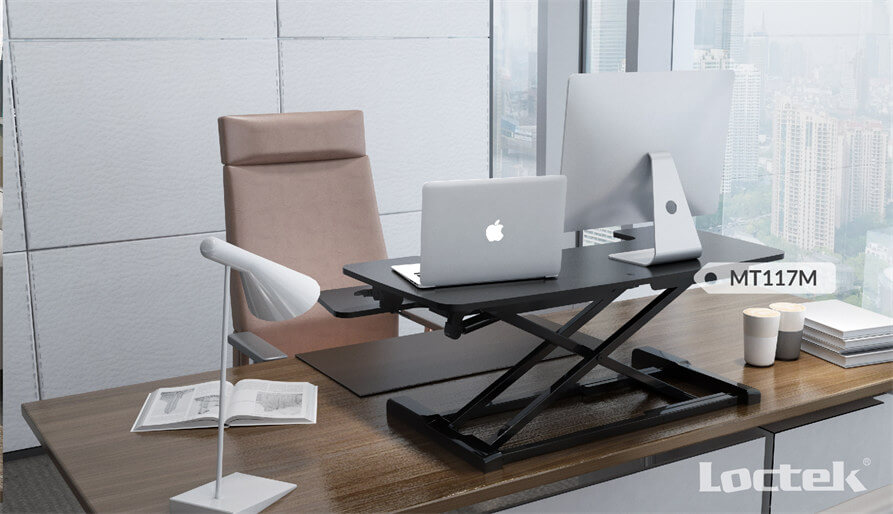 Easy Adjustments
When working in an office, you often need to switch between standing and sitting. It can be a nuisance to wait around for the desk converter converter if it takes too much. Loctek desk converters offer easy adjusts without any effort. All you have to do is squeeze the single-hand bar. It uses 13 pounds of force to convert the desk into a sitting or standing position easily.
Can Handle Weight
For a work desk, you need something that can hold your files, stationary, desktop, laptop, or other tidbits that you have lying around. The desktop can take 35 pounds of load easily. The desktop convert works well underweight too. Some converters can be difficult to use because they have unbraced mechanisms that are susceptible to making the converter drop-down under the weight.
Loctek desk converter is specially designed so that it can take on the weight and adjust without damaging your office items.
Fits All Height Types
When working in an office, you have to consider how many variations in height can persist among your workforce. If you have an even higher desk, it can be accommodating even more people.
The height can be adjusted, so you always have the option to cater to shorter people too. This adjustment ability can be perfect for offices with different kinds of people working for them.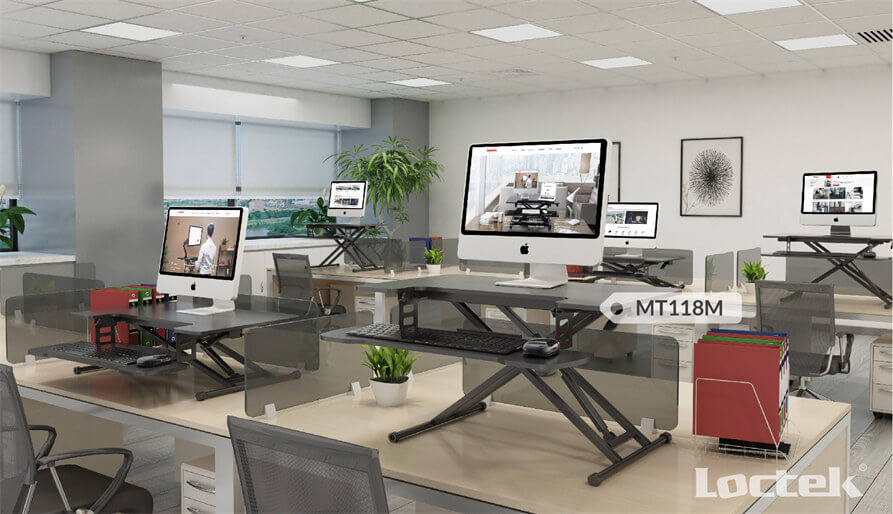 Improve Posture
Slumping at the work desk while sitting all day long can be really bad for posture. Back discomfort actually affects 80% of people and is often a problem those sitting at their desks all day share. Research shows that there is a 54% decrease in neck and upper back discomfort if employees work while standing for just 66 minutes a day. This increases if you choose to stand more.
Loctek desk converter is designed to prevent slouching whether you are sitting or standing. You will be able to sit or stand in an ergonomically-correct position, which can reduce the toll on your spine. Staying healthier is easier with desk converter converters.
Better Health
As we described before, the desk converter can help prevent back, shoulder, and neck pain since it helps your spine. But there are other health benefits too!
Did you know that the desk converter can actually reduce your risk of heart disease? Research shows that standing more can reduce your risk of heart-related disorders when compared to those who sit down more. A sedentary lifestyle can actually increase your risk of developing cardiovascular problems like heart attacks by 147%!
Help with Obesity
Standing desks are also helpful in burning calories. It is a frequent complaint among employees that they started gaining more weight once they started working in an office with a sitting desk. However, with work and other life commitments, it can be hard to gather the motivation to work out every day. So, what is one way that can burn off calories for you without putting in more effort?
Well,desk converters can reduce obesity risk by burning 50 calories for every hour that you opt for standing instead of sitting. If you incorporate standing work modes for 3 hours every day in the workweek, you will be able to burn off 750 calories! That's around 30,000 calories a year! This is the same level of calories as running in 10 marathons would be.
Increased Productivity
Some employees may be hesitant to switch to a desk converter since they think it might impede their everyday tasks of typing, filing, or taking calls. However, there isn't much need to worry because desk converters have actually proved to be much better for productivity.
We understand that it can take some time to get used to desk converters, but studies show that the switch has no negative consequences on the daily tasks you have to complete. With improvements in your mood and energy levels, overall better health, and elimination of body aches, you are more than likely to become even more productive. If you feel more active and energized, you are more likely to take on work with a more motivated mindset.
One research shows that employees who switched to vertical workstations have better job performance overall. Employees actually saw an increase in problem-solving activities and attentiveness.
Desk converters are also more likely to increase collaboration among employees. The ideas can start to flow when you are standing in close proximity. Being on your feet also increases the likelihood of employees walking to other people's desks to ask questions and clear out any details about a project.
The desk converter converter is a pretty great idea for office spaces and work-from-home environments. It is a superior product in pretty much every way because it brings so many benefits to health, productivity, and office ergonomics.