The unique feature of ET119W-C is that it has four-position memory buttons, two USB charging ports ( 1 Type-A, 1 Type-C), and a drawer with plenty of storage space.
MUTIPLE APPEARANCES
You can choose one of these four colors according to your preference.

Solid construction, never have to worry about wobble
Single-motor design provides a 45kg weight capacity, more than enough capacity to raise your workspace thousands of cycles without the wobble or shake of our competitors. It is also CE & FCC certified, demonstrating the quality and performance of our design and engineering.

QUICK INSTALLATION
Only 3 steps and 12 screws are required, no additional complex installation is needed. We want you to enjoy your new Stand Desk as soon as possible, so we've engineered it to assemble in 10-minutes or less. Our legs and motors come pre-assembled out of the box, all you have to do is attach the frame to work surface and plug everything in. If you need help during assembly, we're always here to help.
Integrated output ports, get the most out of working while standing
The desk has one Type-A port and one type-C port. Each port can power other digital devices, supporting charging protocol. Keep cables and cord neatly and safely organized with our cable management taco or cable tray. Power your electronics with our power strips and clever grommet hole power adapters. You didn't forget to stay comfortable throughout your day with a standing mat or office chair, did you?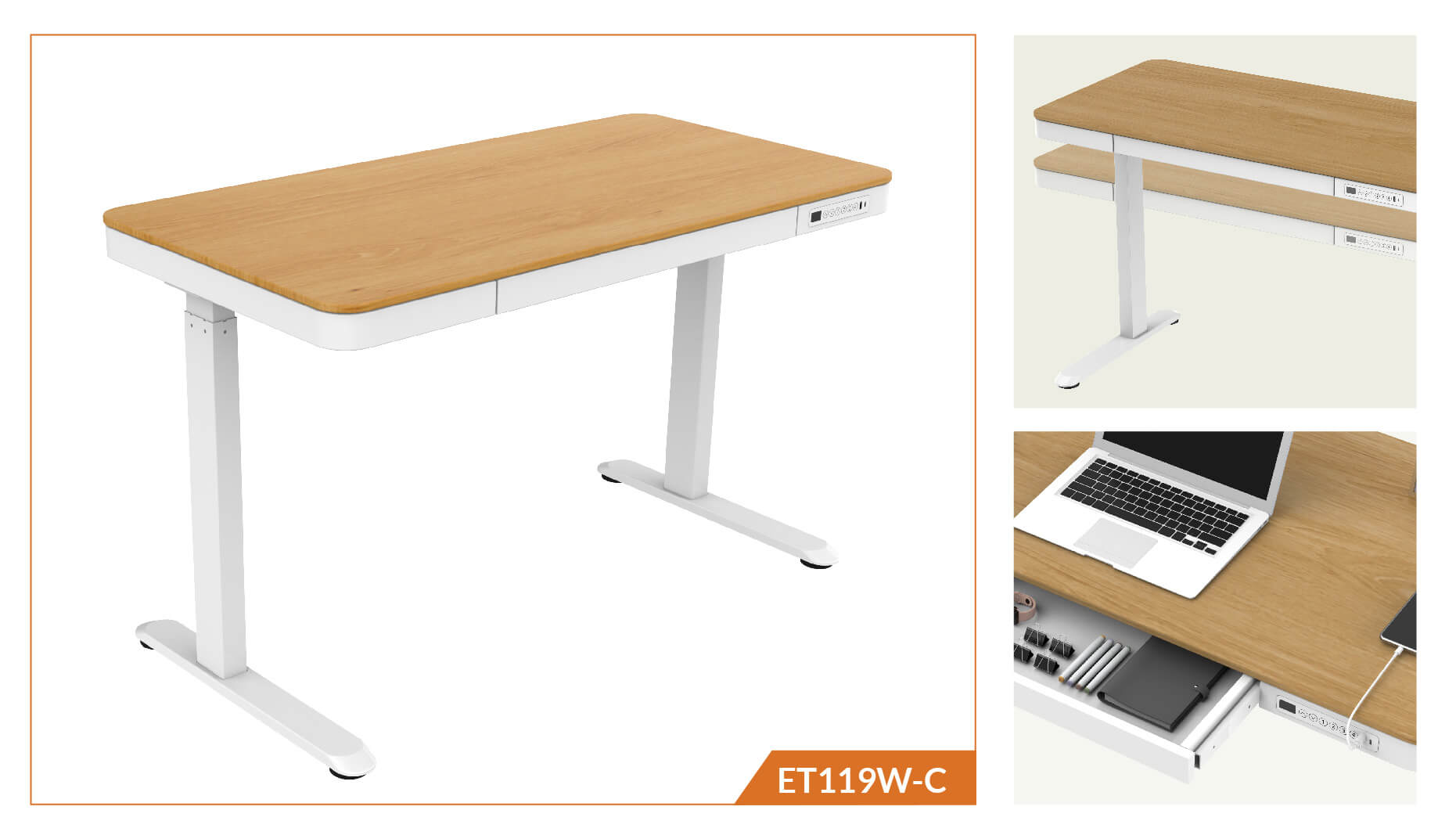 Four-position memory buttons, just right for your height
The four-position memory buttons can support different family members in different scenarios. For example, the father can work at the desk, the mother can do her makeup at the desk, and the children can do their homework at the desk. Simple and smooth one-touch, height can adjust from 720 to 1220 mm—just right for people between 5'2" and 6'5". Easily store your personal sitting and standing desk heights to transition throughout your day quickly and quietly.
ANTI-COLLISION SYSTEM
The inverted structure of the desk maximizes the avoidance of knocks, thus extending the life of the desk.
ET119W-C, a standing desk with both beauty and practicality, will meet all your home office needs. If you have any other questions, please feel free to leave a comment on our website.