Soaring shipping cost, port congestion, limited transportation capacity… these issues are becoming increasingly severe. Containers are piled up on the port like mountains, and the delivery date is getting closer and closer, while products have not been able to reach customers. This may not only lead to bad reviews, but also negatively impact the brand with a bad impact.
What Amazon sellers are facing are far more than that: Amazon adjusted FBA fees starting from January 18, 2022, with six major increases, including: fulfillment fee changes,monthly storage fee , aged inventory surcharge, referral fee changes, removal and disposal order fee changes, small and Light fee changes, prep and label service fee changes. Click here to read the details.
For cross-border sellers, now is the time to consider the necessity of renting Lecangs so as to balance the cost.
Who We Are
Lecangs, a subsidiary of Loctek, has established overseas warehouses around the world to provide global customers with faster delivery and more flexible supply.
So far, Lecangs has 20 overseas warehouses, covering an area of 3,000,000 square feet. Lecangs has purchased 14 private warehouses across the US, especially in the core hub ports.
Distributed warehouses, sufficient product inventory, and intelligent automation systems have greatly reduced the time of delivery, cutting the waiting time for customers from 30 days to 5-7 days. Thus, Loctek is able to provide customers with faster, more flexible and better services while providing premium products.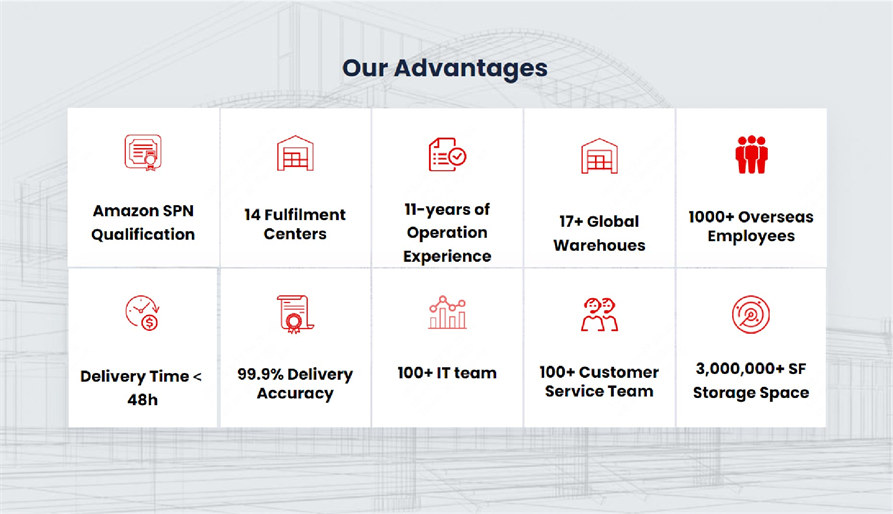 What Can Lecangs Do to Help
1. Reduce logistics costs
After batch delivery to Lecangs, express delivery costs can be reduced by 30-50% through local express delivery.
2. Effectively avoid logistics peaks
During holidays, sellers will focus on mass shipments after the holiday, which will inevitably affect the speed of logistics and thus affect the time for buyers to receive goods. With Lecangs, sellers must prepare goods in advance and send them to Lecangs in batches. If there are orders, they only need to issue orders for delivery, and there is no problem of slow logistics during peak periods.
For most sellers, they dispatch a large number of goods after the holiday, which inevitably lead to heavy congestion in transportation and thus result in rising shipping cost and longer delivery time.
3. Promote the shopping experience of consumers
When shopping online, customers will consider the quality of the product, as well as timely delivery and after-sales service. If sellers have Lecangs, they can ship goods directly from the local warehouse, which has the same time advantage as local merchants. Having warehouses in target market is an excellent choice, which not only greatly improves the buyer's shopping experience, but also adapts to cross-border e-commerce market development.
4. Speed up the delivery
The seller prepares the product in advance to the overseas warehouse and ships it from the buyer's country, which greatly improves the speed of logistics and distribution, and at the same time can reduce various disputes and refund problems caused by logistics.