Why CD201 is a desk that grows with children?
CD201 is suitable for kids of all ages, including preschoolers, school-age children and teenagers. And it can be flexibly adjusted according to the needs of children at different ages. That's why we say it's a desk that accompanies children to grow.
Electric Height Adjustment: Kids tend to get taller at a pretty steady pace, growing about 2.5 inches (6 to 7 centimeters) each year. As children grow , fixed desks are likely to lose value due to their changes in height, while electric adjustable desks can be used until children grow up to adulthood. It may be a little pricey, but it brings many benefits to the healthy growth of children. And it's much more cost-effective than a fixed desk in the long run. Standing alternately can also effectively solve the problem of sleepiness in sedentary learning and improve learning efficiency.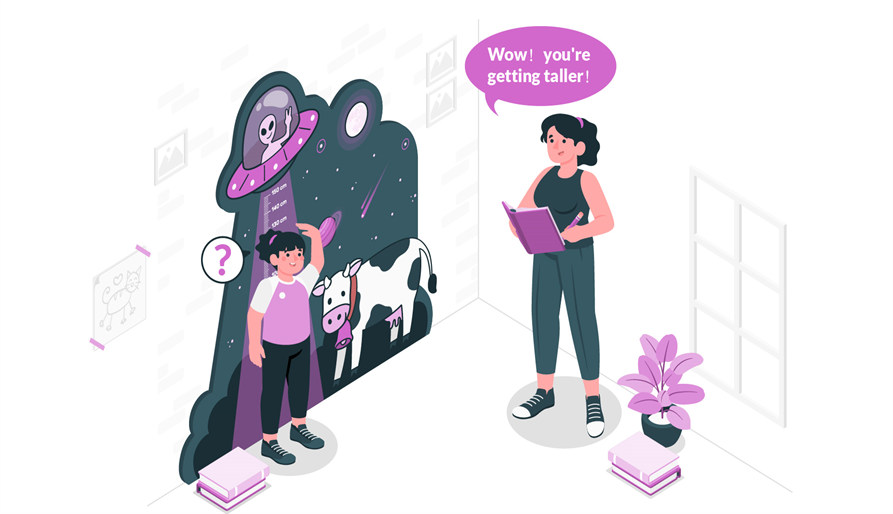 Divided Tilt Adjustment: The desktop can be adjusted at various angles to the most relaxed position for activities like writing, drawing or reading. Kids can also sit or stand according to their different needs, which will make their activities more productive & flexible. The study found that 2-5 years old is the spine stereotyped period; 6-12 years old is the visual development period; and 13-18 years old is the healthy development period. Using the study desk can not only protect their physical health, but also help them develop good habits such as using their eyes scientifically to develop a good sitting posture from an early age.
Storage Drawer & Multi-Functional Hook: The Large storage drawer can hold pencils, erasers, notebooks, etc. and the hook for schoolbag, cups or any other hanging items. The multi-functional reading shelf can hold both books and ipads, which is convenient for children to read books and take online classes, and it can be folded when not in use. By the way, the reading shelf is optional and can be sold alone, so you can choose and match according to your actual use.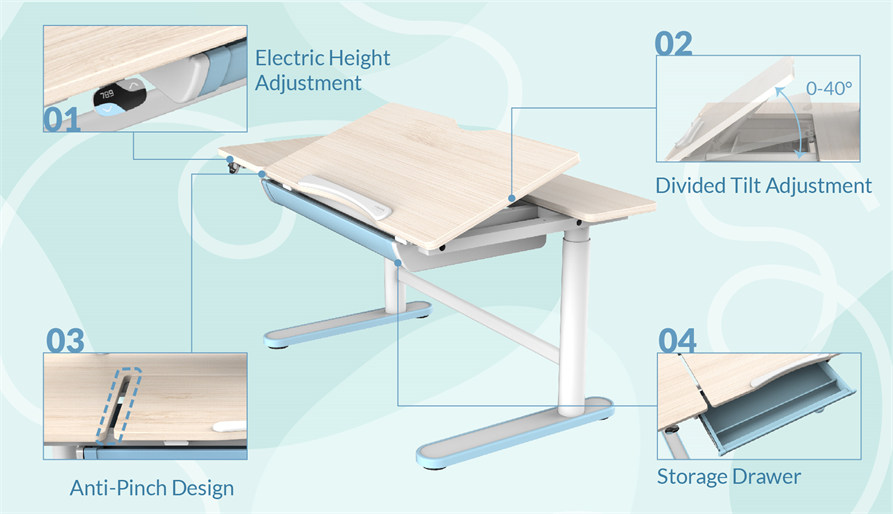 Safety & Details: You can absolutely rest assured about the safety of this desk, because every detail has been carefully designed by our R&D team.
Child lock function: Press the up and down buttons together to lock the button in order to prevent accidental touch, and press it again to unlock.
Retreat in case of resistance: when the lift encounters resistance, it will retreat in the reverse direction, which is designed for safety.

The load-bearing feet are made of high-quality steel of automobiles, with a thickness of 2mm, which is durable and stable.
More than 2,000 experimental tests have been carried out to prevent shaking and tipping; the bottom beam of the table frame is designed for overall reinforcement and stability; And 2mm thick carbon steel is resistant to compression and not easy to deform. We believe CD201 is a desk that all parents who love children will buy.