Basic Features
Elevating your head above your chest reduces the pressure on your airway and nasal passages, resulting in less obstruction and compression.
You'll no longer have to readjust your pillows throughout the night to find the correct spinal alignment. Instead, your adjustable bed frame does the bulk of the work to help you settle into the most comfortable sleep position.
One clinical trial found that 67% of snorers experienced reduced symptoms with an increased head elevation thanks to their adjustable bed.
And our EB602M series provide customers with up to three memory presets, allowing customers to reach their favorite position with just one touch.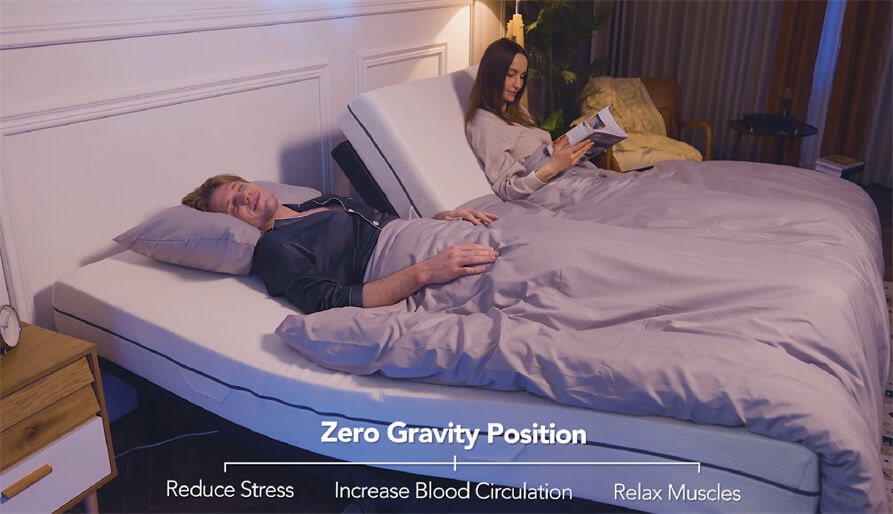 Many may wonder what zero-gravity mode is. Actually, it's a way researchers are exploring to reduce the stress on astronauts' bodies during takeoff. Researched by doctors and sleep specialists, sleeping in this position reduces stress, distributes your weight evenly, and maintains a neutral spine, which brings relaxation and leads to quality sleep.
Do you ever wake up in the middle of the night and hear an unpleasant wheezing and rumbling from the other side of the bed? I'm sure many people are deeply troubled by this problem. The anti-snoring preset elevates the head slightly higher than the rest of the body. This position can reduce snoring for people with medical conditions like sleep apnea, as well as those who naturally snore at night. In addition, people with structural diseases of the nasal organs have been improved by this pattern.
Convenience Features
These lights help you avoid stubbing your toe on obstacles and also allow you to see beneath the bed more clearly, which can also reduce the noise when you try to open the bedroom overhead lighting.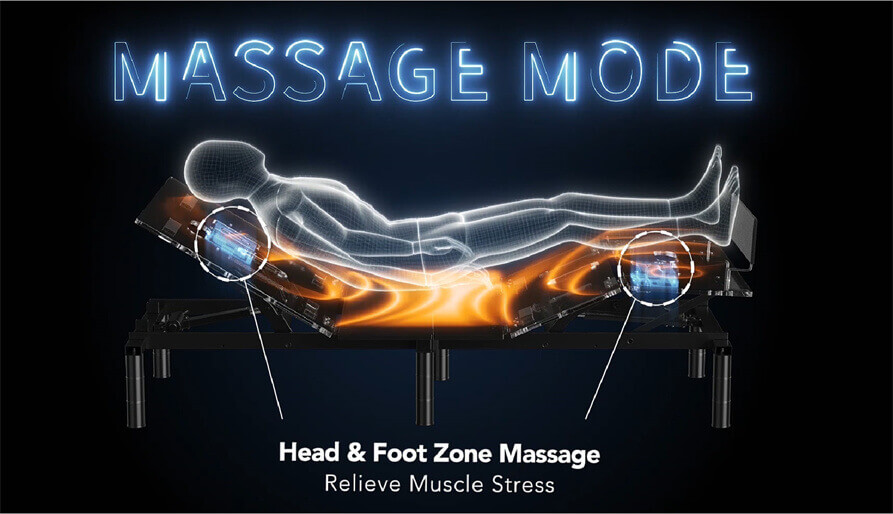 USB ports are commonly found on modern adjustable bases. Typically, the bed will feature one or two ports on each side, allowing you to charge devices while you sleep. Our EB602M series support TYPE-A & TYPE-C, and support fast charging of main mobile brands like Apple, Samsung, Huawei.
The number of massage modes or intensity levels will vary. EB602M has three vibration modes, which are alternate, wave and surf.
The alternate mode refers to the alternate vibration of head and feet. The wave mode refers to the vibration back and forth from head to toe, just like a wave. The surf mode refers to vibration of maximum intensity.