When it comes to office chair, finding the right product is essential to maximizing your performance and comfort. The average office worker will spend over 1,900 hours a year sitting at their desk, so using the wrong chair can lead to a range of back and neck issues.
F216 series offer everything you want from an office-based exercise machine. And for remote working people, it's a good idea to get a ride while sitting for long periods of time.
Exercise While Working
F216 series is an innovative product designed for office environment, used to release the rigid body because of the sedentary lifestyle.
It is a dual-use product that integrates exercise bikes and seats used with standing desk , so you can exercise while working.
According to our research, 10 minutes on the exercise bike equals 1 cup of coffee with sugar; 60 minutes on the exercise bike equals 1 slice of bread with cheese; And 100 minutes on the exercise bike equals 2 cupcakes. Of course, all this presupposes that your feet are constantly moving.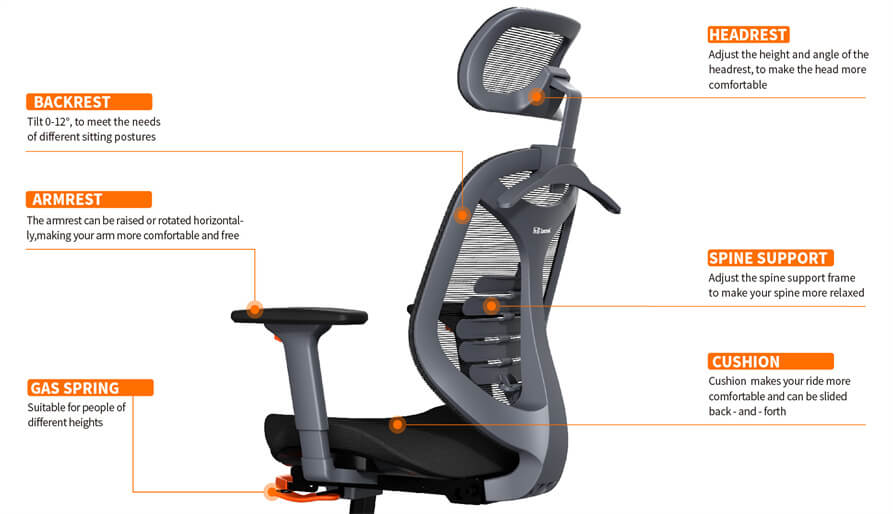 Multiple Ergonomic Designs
Adjust the height and angle of the headrest to make the head more comfortable, thus protecting the cervical vertebra.
The backrest can tilt 0-12°to meet the needs of different sitting postures. Meanwhile, the Y-shaped design can support more load capacity.
The armrest can be raised or rotated horizontally, making your arm more comfortable and free.
Adjust the spine support frame to make your spine more relaxed.
The wing-like seat cushion adopts high elastic sponge to support the body evenly,which reduces stress and encourages you to exercise. And it can be slid forward or backward according to your needs.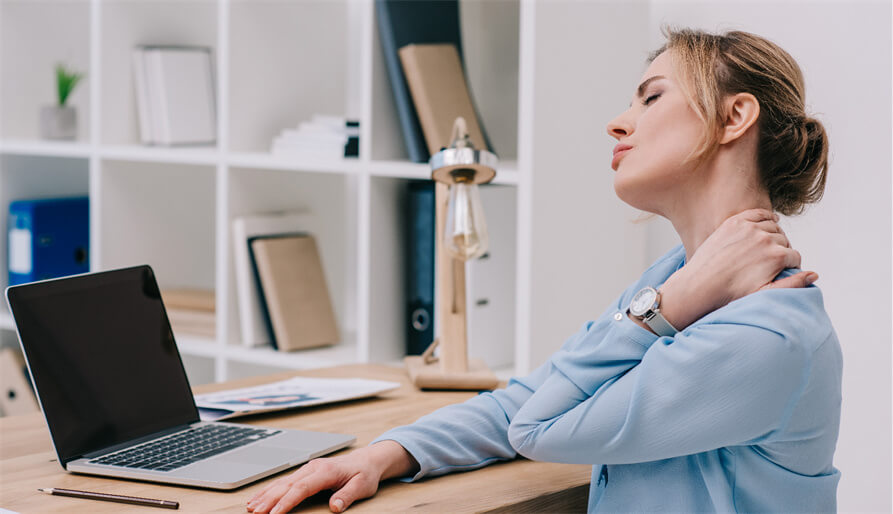 Adjustable Resistance Settings
Most bikes nowadays come in different resistance levels. This is so that you're able to control the amount of opposition when pedaling the bike, which in turn gives your muscles a better workout. You can choose a low level for an easy, passive exercise, or a higher setting to accommodate more intensive workouts for your lower body. Some models are even built to help exercise both arms and legs, so you're also getting an upper body workout.
Comparison Between F216 DBU & F216 PRO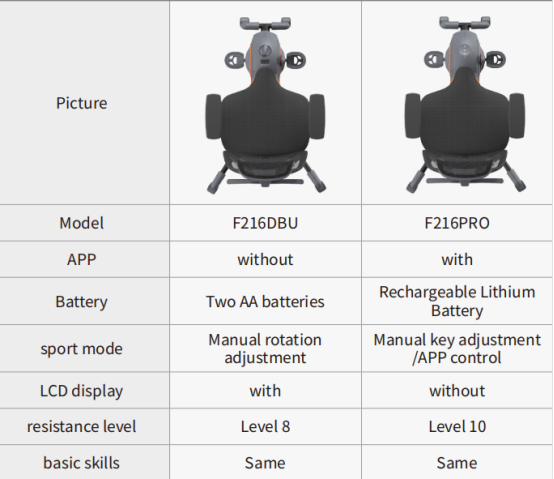 The biggest difference between DBU and PRO is whether they can connect to APP. When the fitness chair is connected to the APP, you can directly adjust the resistance on the APP, and the it will display the speed of the fitness chair and the calories consumed. In addition, you can also see the daily sports mileage rankings in the circle of your friends. Besides, F216PRO has higher resistance level and more powerful charging function.